BOUX'S BRA STYLE GUIDE - EVERYTHING YOU NEED TO KNOW

Let us guess…in that lingerie drawer there are at least 10 bras taking up precious space, and you regularly wear 3 of those, max.
We wear them day in, day out, so having a variety should be how we roll, right? Wrong. So many of us are stuck in a rut when it comes to picking a plunge over padded, or trying triangle vs. t-shirt! Well, with 2023 bringing a mega range of different bra styles to choose from - it's time to brush up on your bra size knowledge AND figure out which is the best style for your beautiful bod - and as per, Boux has got the guidance to get you sorted!
YOUR GUIDE TO ALL THE DIFFERENT TYPES OF BRAS
We've all been there. Browsing for a little bra inspo and bam, that sense of overwhelm hits. Not sure if on-trend bralettes are really your thing? Or if a balcony bra or a plunge bra would suit you best? Wonder no more, because the ultimate bra style guide is here. All the types, all the variations, all the styling tips. Ta-da!
WHAT IS A PLUNGE BRA?
The plunge bra. With cups that sit low and meet in the middle, is a gorgeous day-to-evening style bra that brings your bust together, creating an incredible cleavage; perfect for a deep-V neckline kind of day!
The Aliyah plunge bra makes for the perfect foray into this gorgeous bra style. A plunge with a subtle push-up boost plus super feminine lace detailing makes this a firm fave with the team here.
WHAT IS A PUSH UP BRA?
Slightly different to your classic padded bra, in that these beauties feature extra padding at the bottom of the cup too. A push up bra gives the most luscious lift; for both your boobs and your confidence levels, that is!
A push up bra we cannot get enough of is the Mollie plunge bra, and neither can you, with one sold every 10 seconds! Mollie comes in a range of colours and the push-up padding is removable, so you can pick and choose when you want that extra boost.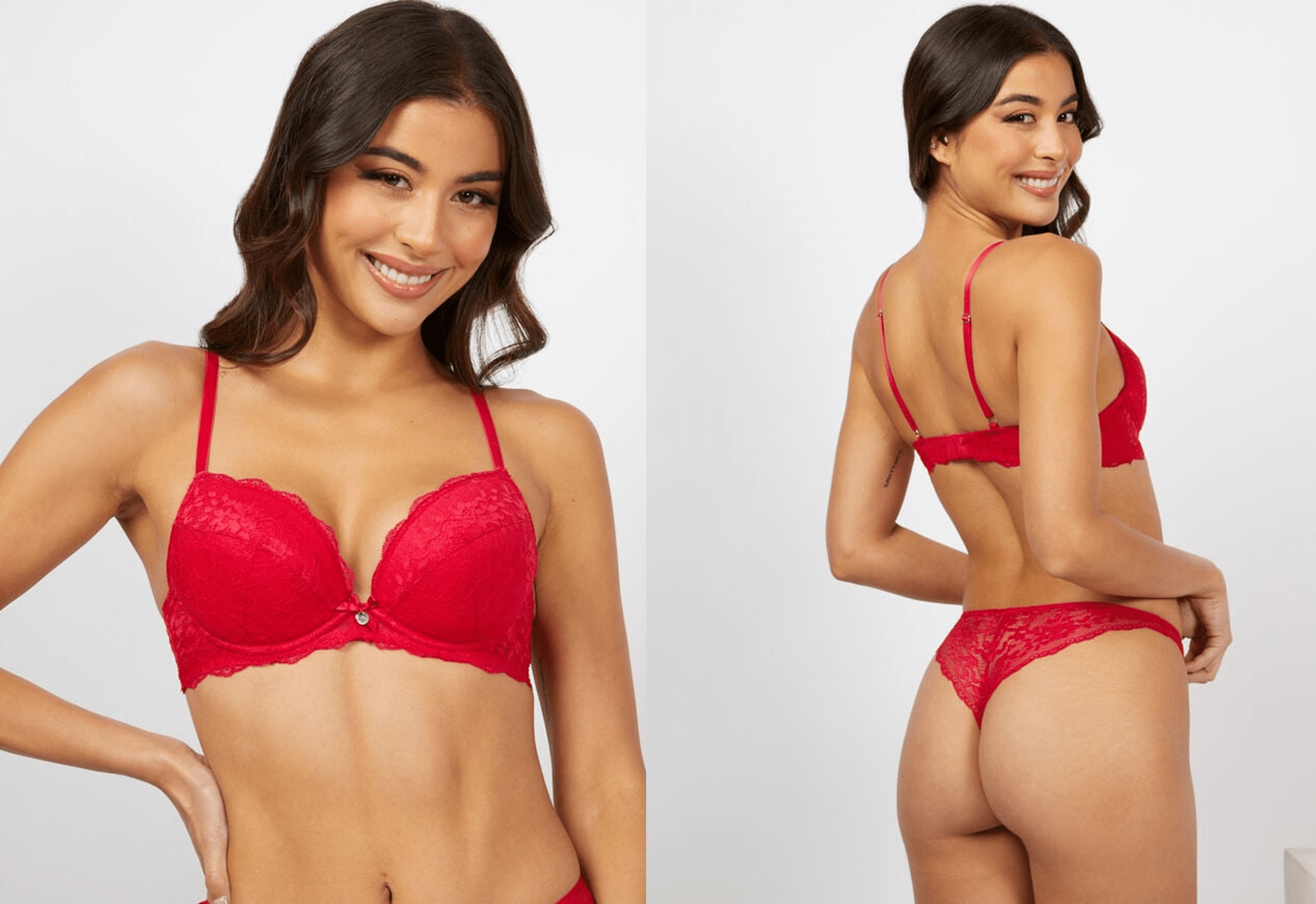 WHAT IS A BRALETTE?
The power of the humble bralette is not to be underestimated. No longer reserved for those 'first bra' memories, a bralette is a wire-free, unpadded option for the moment where you need your bra to bring the 'aaahh'. And there are SO many stylish options available.
The Chevron ribbed seamless bralette serves up chic loungewear vibes all day long, with a scooped neckline and cross-back straps. Wear as a crop top paired with leggings and enjoy the optional padding that comes with this one - see, our lovely design teams think of EVERYONE with their creations!
WHAT IS A BALCONY BRA?
The Balcony bra is a supportive style that usually has slightly wider set straps. Perfect for wearing under low necklines (hello, horizontal-cut cup) as well as your hottest high-neck pieces (yes, serious lift and support), the beautiful balconette suits all breast shapes and sizes!
A good balcony bra creates that pin-up level fullness, whilst keeping things soft and feminine, all at the same time. Sound too good to be true? You'll change your mind when you see our range. Start with the prettiest of them all - the Piper lace and mesh balconette bra is waiting for you in six different colours - one won't be enough!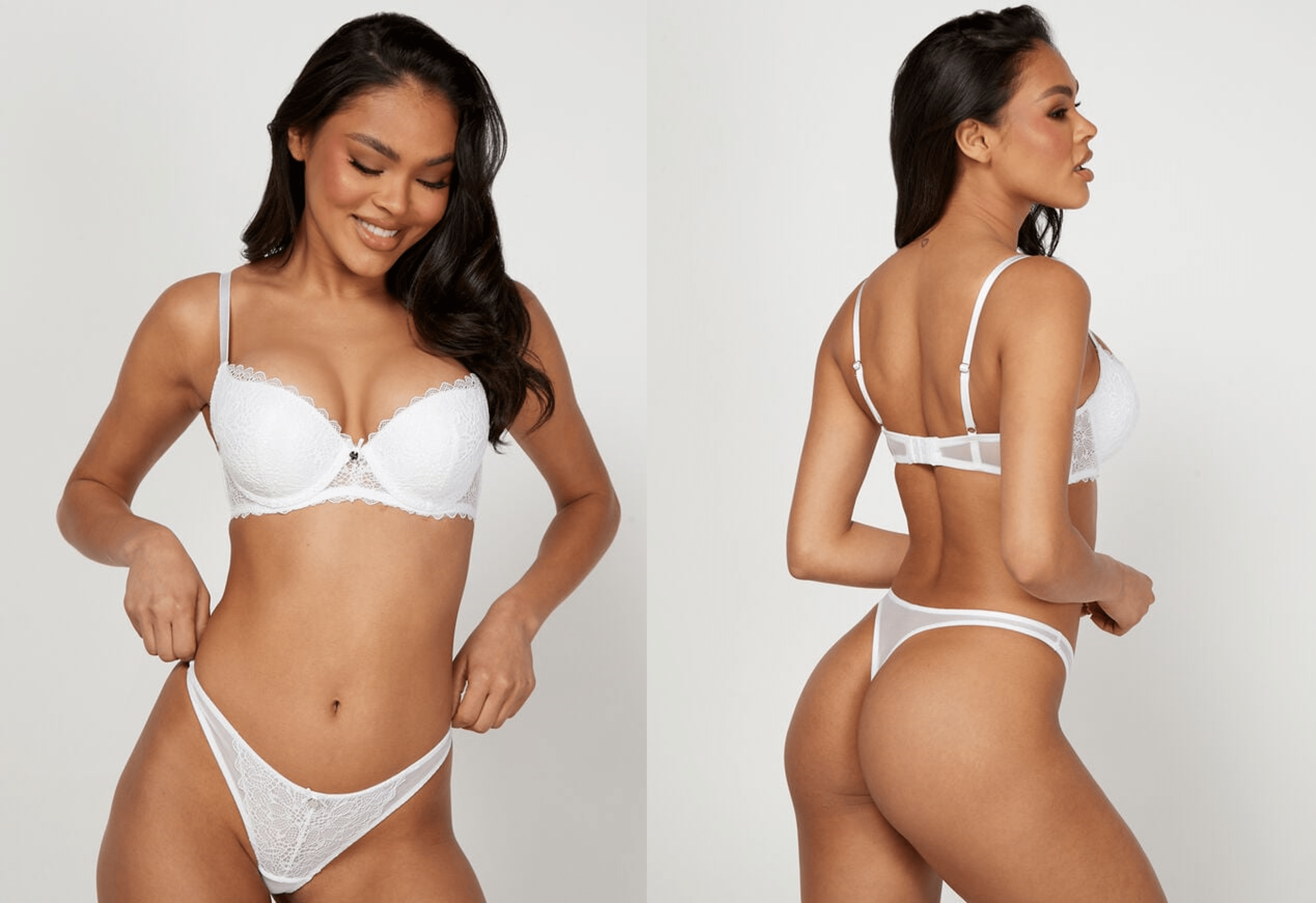 WHAT IS A T-SHIRT BRA?
The t-shirt bra just has to be a part of any decent bra style guide, and this one's no exception.
Soft, simple and designed to sit seamlessly under all your clothes, it's an everyday essential. Our advice? Find one that you love, and stick with it.
The Tatiana cotton plunge t-shirt bra brings a classic plunge style that offers the ultimate comfort and shape, sitting beautifully underneath your favourite outfit. Delicate floral lace and its range of staple colours might just tempt you to buy a few of these…
WHAT IS A LONGLINE BRA?
Don your inner demoiselle energy ladies, because with a hint of 1950s retro mixed with a nod to classic corsetry, the longline bra is here to stay.
It's a bra with a band that extends a little further down your torso - be it a couple of inches or right down to your waist - and there are SO many different styles to choose from.
We think the Georgie balconette bra is a gorgeous choice, for when you want a longline bra with a bit of extra frill. Or if you like your longline bras with added length, go for a the pretty Hettie longline bra.
STRAPLESS BRAS EXPLAINED
Strapless bras are an essential, but it can be hard to find the perfect one. We know you've got one hiding away somewhere. But is it a bra you avoid wearing because you're forever pulling it up? Or perhaps it gives you that much unwanted cone-like vibe?
The thing is, your favourite strapless dress (and that new asymmetric-cut top) need their partner in crime. So you owe it to yourself, sartorially speaking, to bag the perfect strapless bra. From classic, to stick-on, to microfibre fabric- there are plenty of strapless options you can explore further in our bra solutions guide!
Get the right bra size and we think you'll be pleasantly surprised at their wearability!
WHAT ACTUALLY IS A MULTIWAY BRA?
Designed to provide support in the subtlest of ways, the multiway bra is perfect for when you need your bra to fit in a very specific way to work with your outfit choice! Usually a strapless base with detachable straps, the multiway lets you flaunt all of your racerback, one-shoulder, backless or cut-out pieces knowing that you'll still get a discreet lift from your bra…so many of our plunge bras, longline bras and strapless bras have the option for detachable, or adjustable straps. You can wear them in a multitude of ways.
WHAT ARE THE DIFFERENCES BETWEEN PADDED AND NON PADDED BRAS?
Always been a padded-only gal and now wondering if non-padded could be your thing too?
The key difference is this: Padding gives a sense of that magazine-cover, model-esque breast shape we've all gotten so used to. A bit of extra comfort and protection!
No padding means showing off the gorgeous, natural shape of your breasts. We know that different occasions will call for different styles, so it is good to have a mix.
We love the Alette balconette bra as an unpadded option. Sheer cups with delicate heart embroidery - we love!
WHAT ARE THE DIFFERENCES BETWEEN WIRED AND NON WIRED BRAS?
Some days you need a confidence boost, an extra little lift. Enter the underwired bra. This classic style will likely be what most of your bras are like. The underwire in the bra serves to separate your boobs slightly and provide support.
Other times, couch time is on the cards and for lounge-worthy lovelies, a non-wired bra is best! Gentler on your bust and on your skin, these can still offer amazing support - take the Full support lounge bra for instance. Moulded cups and uber-light padding make for a shapely and firm figure with a blissful feel that'll mean you're not desperate to whip this one off all day!
WHICH BRAS ARE BEST FOR YOUR BUST TYPE?
Ultimately, there are no rules when it comes to the bra that is best for you - the one(s) you feel most comfortable and confident in means you have met your match! To help you with your bra choosing, we've listed the best styles according to your bust shape - check out the list below!
THE BEST BRAS FOR LARGER BUSTS
Larger-busted gals will want to favour styles that support and lift, whilst providing decent coverage. Try these styles for size:
- Our DD+ Bras range, designed especially for larger busts.
- The balconette bra
- Our range of T-shirt and lounge bras
THE BEST BRAS FOR SMALLER BUSTS
And top three for our smaller-chested sweethearts?
- A lovely lace bra
- Beautiful bralettes
- The classic push-up
What is your go-to bra style? We want to see! Share with the Boux community on Insta using #myboux !